Old Minchendenians News
Bank holiday weekend at the club
21 May 2014
Join us for Finals day on Saturday and the Mike Garwood Trophy on Sunday!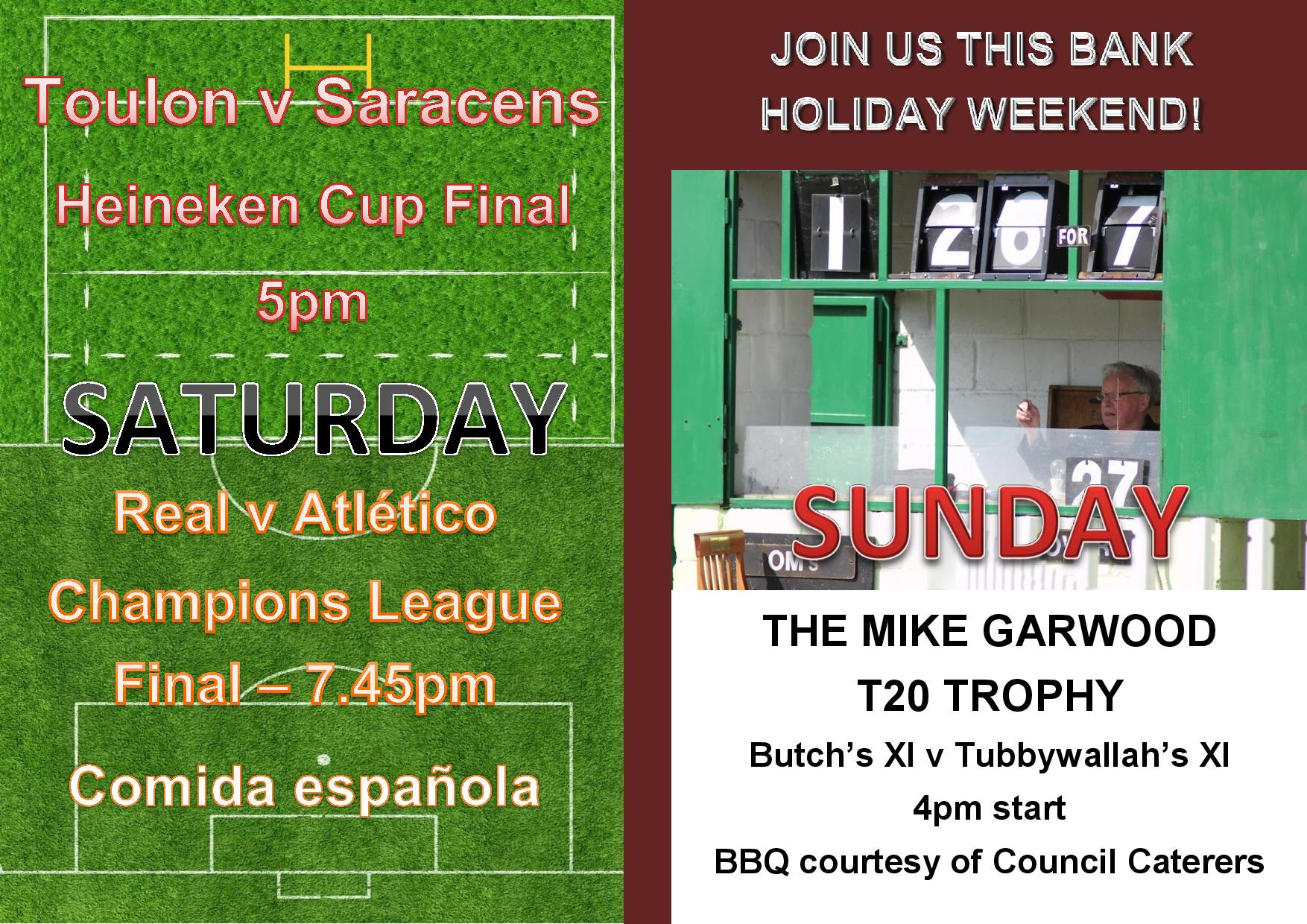 News Link ...
---
OMCC launches Fantasy Cricket 2014
01 May 2014
New for the 2014 season is Minch's very own fantasy cricket game; your chance to play selector and compete against your teammates to win £50 in prize money!

Rules, scoring and the players to choose from are all detailed below.

All you have to do is to download this form, pick your team and email it to us. We'll collect your £5 entry fee in the coming weeks.

Teams registered by May 2 are eligible for the first round of scoring.

OMCC Fantasy Cricket 2014
Rules

· Entrance fee is £5. You can enter more than one team

· Your team must consist of 11 players, selected from each group as specified below. (List comprises players who made 4 or more OMCC appearances in 2013).

· You must select yourself if you are listed and thus become the pick (or one of them) from that group.

· You have to select a captain for your team (who will score double points).

· Transfer windows will open on the 14th day of each month at 00:00 and close on the 20th day of the month at 23:59. Two transfers are permitted each month.

· Players that make an appearance for OMCC but are not included on the list will be added to the game in the next transfer window.

· Teams can be entered at any time during the season. To qualify for the first week of scoring, your team(s) must be entered by Friday, May 2 at 23:59.

· Points can be scored from all OMCC games, with the exception of tour matches.

· All communication should be via email: cricket@oldminchendenians.org.uk
General scoring

Bonus points

Penalties

1 point for every run scored

20 points for every wicket taken

10 points for every catch taken

10 points for every stumping taken

Double points for your selected captain

20 points for a score of 50 or above

40 points for a score of 100 or above

20 points for a 5 wicket-haul

50 points for a 10 wicket-haul

5 points when not out

-10 points for a duck

-20 points for a golden duck

-10 points for conceding 40 runs without taking a wicket
Group A (2 picks)

Group B (2 picks)

Group C (2 picks)

Group D (2 picks)

Umesh Agarwal

Ben Rose

Dinesh Reid

Pavan Patel

Shahid Khan

Mark Hanrahan

Dinesh Chouhan

Atul Patel

Steve Eveleigh

Tim Goodwin

Eren Taner

James Ward

Tom Rowlands

Tom Kingham

Dipak Varsani

Sujan Depala

Scott Forrester

Ross Forrester

Group E (1 pick)

Group F (1 pick)

Group G (1 pick)

Ramesh Varsani

Tim Brocklehurst

Bill Reed

Vas Packianathan

Manish Solanki

John Bosdet

Rakesh Depala

Bruce Forrester

Roger Evans

Vivek Shah

Gary Rondell

Andy Spring

Paul McIvor

Kieran Wetherill

Syed Raza

Anand Mehta

Kit Goodwin
News Link ...
---