OLD MINCHENDENIANS GOLF SOCIETY (OMGS)
2012 CHRISTMAS MEETING at BUSH HILL PARK GOLF CLUB
FRIDAY 2nd DECEMBER
£55 for coffee and bacon rolls from 8:30am and the first tee is reserved from 9:30am. We will be playing 18 holes and the winner will collect the Reg Davis Trophy.
FULL Christmas lunch included.
ROBBIE EDWARDS ELECTED AS CAPTAIN FOR 2011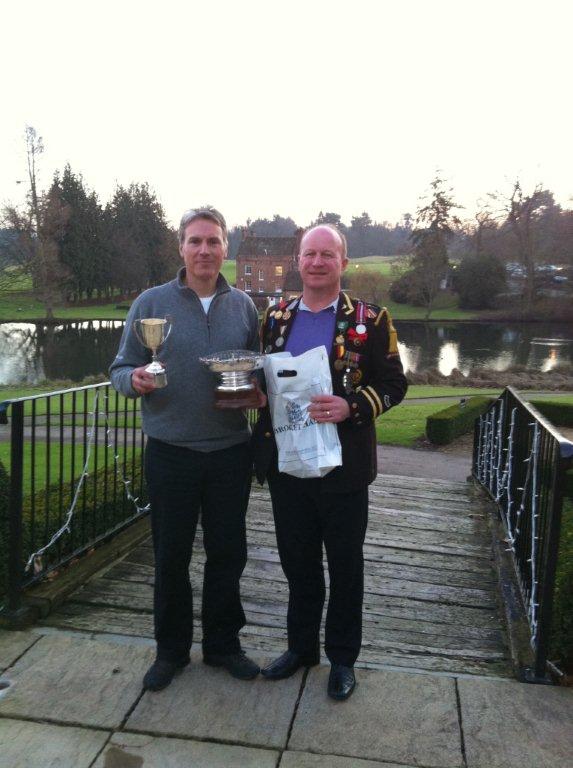 THE WINTER MEETING WAS POSTPONED DUE TO SNOW IN DECEMBER AND HELD AT BROCKETT HALL IN JANUARY ON A FANTASTICALLY SUNNY DAY.
SPECIAL MENTION FOR JOHN BAVIN WHO BATTLED THE VARIOUS MOTORWAYS FROM KENT TO RUN DOWN THE FIRST TO CATCH US UP. HE PARRED IT WITH EASE.
HIS BACON BUTTY WAS A LITTLE COLD THOUGH.
THE REG DAVIES WINTER TROPHY WAS WON BY STEVE PHILLIPS WHICH ADDED TO HIS SCORES AT THE OTHER TWO MEETINGS ENABLED HIM TO WIN THE ROSE BOWL AS WELL.

Christmas = Friday 2nd December (provisonal)


--------------------------------------------------------------------------------------------------------------------------------------------------------------------------------------------------------------------
Triangular Triumph
HAVING come so close to victory last year, OMGS ensured that the jaws of defeat stayed firmly shut this time around in the triangular match against Ebogs and Tollys.
Captain Steve Phillips and his team were delighted to lift the trophy at Brickendon Grange after an excellent days play.
It has also been announced that the Christmas meeting will be held on Friday, December 04, 2009 - more details to follow.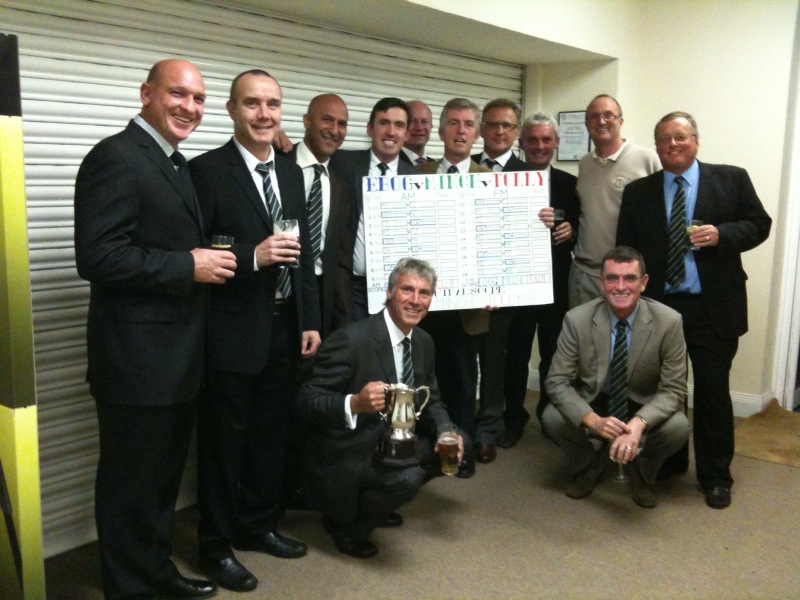 Pictured above is the winning team, consisting of Jason King, Adam Andrews, Chris Ray, Richard Blanchflower, John Bosdet, Lance Hagan, Lance Rigby, Russell Kilikita, Brian Judson, Mark Baxter, Robbie Edwards and Steve Phillips. Congratulations to you all.
---
OMGS Summer Meeting held on July 15, 2009 at Mill Green.

We had a great turnout with healthy numbers and also
trialled a new format by replacing the evening sit down meal with a
finger buffet. So far I have received only positive feedback but please
do let me know if you have constructive criticism. (We will be
retaining the sit down meal for the Christmas meeting).

Well done to Adam Andrews for winning the Senior Trophy with a fantastic
score of 40 and to John Bosdet for winning the Junior Trophy with an
equally impressive 39. The Guest trophy was won by Keith Brooks with a
score of 39 also. Thank you to all those who participated and for those
of you who were unable to attend we look forward to seeing you soon.

The next event is the Triangular match which is being held at Brickendon
Grange (in very good condition apparently) on Friday 2nd October. As
always we need a team of 12 players and Steve Philips has kindly offered
to captain the team for a second year. Further details to follow
shortly but please keep the date free in your diaries.